Know-how
Established since 1888 at quai de Valmy in Paris, alongside the Saint-Martin canal, opposite the famous « hotel du Nord », the firm, with Ernest Carre, launched in the business of building materials wholesale, specializing in ceramic tiles.
From 1937, avant-garde decorators such as Jean Royere and Louis Sognot called for the company's assistance. Specializing in the decorative arts, they led the company towards the creation of high quality ceramic products.
In 1952, Jean-Michel Carre caught the tiling bug. He bought more factories to work for him and so controlled the creation, manufacture and sale of top-of-the-range decorative ceramic tiles.
Carré is still a highly professional business today. Ceramic tiles are designed, conceived, invented and perfected on the drawing board, painted by hand in a ceramics laboratory and manufactured within the bounds of two small factories in Beam, Orriule and in Gournay en Bray in Normandy.
The former, hidden in a hollow in the midst of rolling mountains with green as far as the eye can see, this is where manufacturing 'secrets' are discovered in the calm of the countryside. The tradition of terracotta has always existed here. The workshops were built on the site of an old pottery.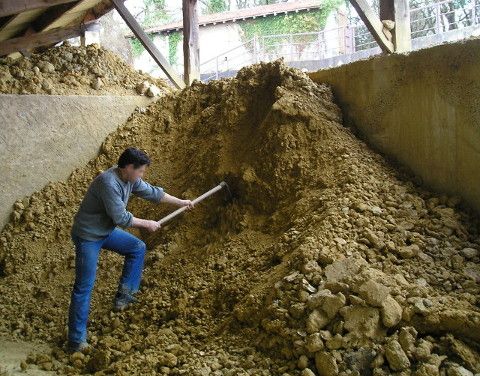 Claystore in Orriule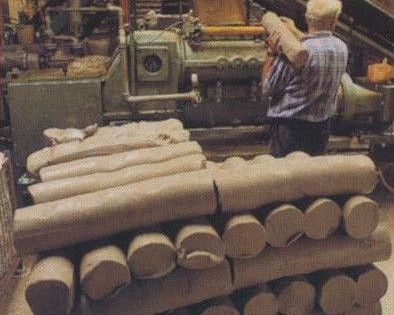 Blocks of clay ready to be extruded and transformed into a flat strip
Clay, extracted from the ground on-site but also in Allier and Charente, is cleansed of its impurities, crushed and fired until it becomes chamotte, and thinned and filtered until it becomes slip.
The clay is extruded into the shape of a loaf and is ready to be transformed into a flat strip and cut by the die cutter to take its definitive tile shape.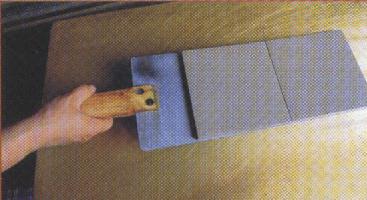 One by one, the tiles are being extruded and cut into shape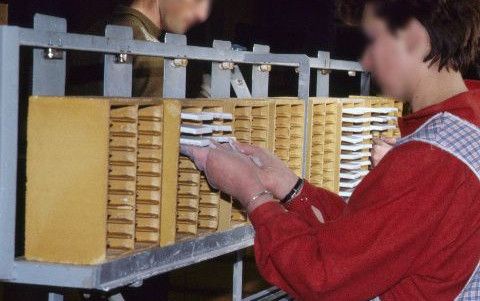 They are then picked up to be placed on shelves
It is then placed on shelves by an expert hand and the soft paste dries in a drying oven. Initial firing in a tunnel kiln lined with refractory bricks gives it a biscuit form.
Carried onward, the tiles move slowly forward for glazing. This is applied in a fine white rain which either falls from a hood or is propelled by a turbine or even applied with a spray gun by an expert hand.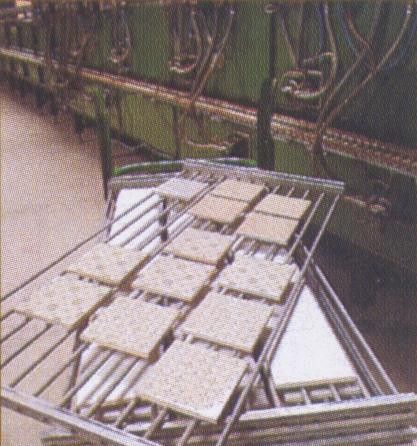 Going into the kiln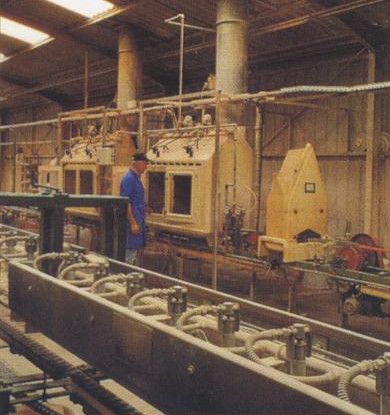 The workshop with the spray booths in the background
The second firing lasts for twenty four hours. The body will become very hard.
The tiles, decorated by hand using paintbrushes, sponges, stencils or silk-screen printing, are fired for one last time. The heat inflames the colors and the enamel adds a shine, a lightness and a translucency that is absolutely incredible... this is the state of grace.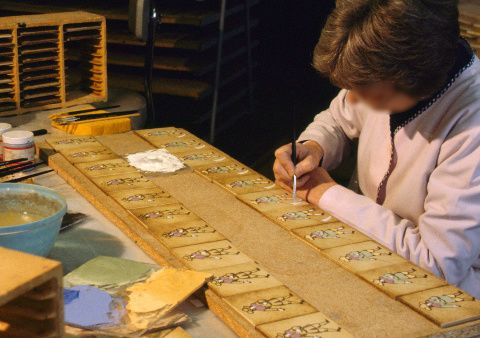 Hand painted tiles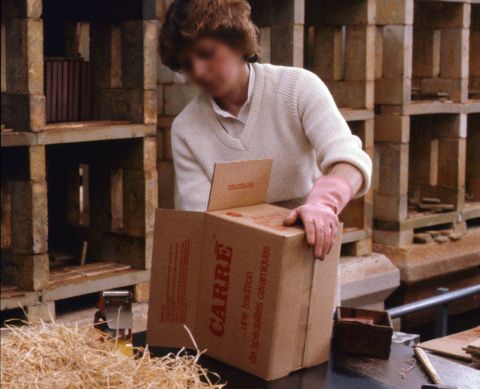 Then they are getting wrapped up carefully and ready to be shipped
The firing process, that mysterious alchemy, sublimates what has been made by hand. At Carre mechanisation has not yet pervasively invaded the manufacturing process.
Previous
Next